NBD LABS ISRAEL PROFESSIONAL TOP SERVICE
NBD LABS ISRAEL PROFESSIONAL TOP SERVICE
NBD LABS ISRAEL PROFESSIONAL TOP SERVICE
PRODUCTS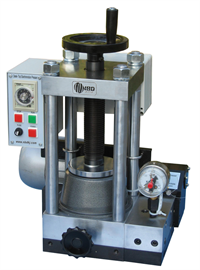 BYPJ series tablet press is smaller in size, lighter in weight, larger in working space and more reliable in pressure stability.
Reciprocating stroke of the piston can output a certain pressure liquid characteristics make up and down shaking pressure handle can be pressed, so that the pressure more quickly and save effort, improve work efficiency.
Moreover, the main part of the instrument, the piston and the mechanical pressure are of independent structure, which makes the cleaning and debugging process of the equipment more convenient in the future and facilitates the maintenance of the instrument.
It is mainly used in the experimental research field of fine ceramic powder, superconductivity, building materials, new material green energy, etc.
Especially suitable for calcium and iron analyzer, infrared spectrometer, X-ray fluorescence and other test instruments supporting the use.
The main features:
Ø pressure stability: adopting the different oil circuit design;
Ø convenience: pressure value, the table is the piston pressure value, reduce conversion;
Ø operation is simple, add into the exhaust system, but don't have to unscrew the feed screw, simplify the operation is convenient to use;
Ø low noise, precision parts processing;
Ø integration combination, compact structure, light weight;
Ø electric operation time;
he basic parameters
Model
Pressure range
The piston diameter(mm)
Maximum piston stroke(mm)
The workspace(mm)
Pressure stability
weight(KG)
Overall dimensions(mm)
Power(AC220V)
DYPJ-20T
0~20T(60Mpa)
Ø80
20
105*105*105
≤0.1Mpa/min
40
370*450*350
180W
DYPJ-30T
0~30T(60Mpa)
Ø110
20
155*180*100
50
290*450*350
180W
DYPJ-40T
0~40T(60Mpa)
Ø120
20
155*180*100
55
370*450*350
180W
DYPJ-60T
0~60T(60Mpa)
Ø156
50
225*300*120
105
370*500*350
AC380V、270W
* More models, welcome to inquire